Loreto, Mexico
Loreto, located on the Sea of Cortez, is one of famous oceanographer, Jacques Cousteau's, favorite places in the world. With his nickname for Loreto being "The Aquarium of the World", it should convince any ocean lover to visit for an Island Tour of Loreto, Mexico. Yet, Loreto is still a hidden gem to most citizens of the world, even to us, their friendly next door neighbors in California. Loreto is merely a 2.5-hour flight from Los Angeles. Alaska airlines offers nonstop service from LAX, Westjet offers seasonal non stop flights from Calgary and Aéreo Calafia offers flights to Loreto from select cities within the Baja Peninsula.
"The Cabo San Lucas of 25 Years Ago"
Many Americans make annual 2 hour flights to Cabo San Lucas or 4.5 hour flights to Cancun for a quick Mexican beach vacation. Those islands are fun and easy for wild bachelor parties, late night clubs or the classic all-inclusive family/romantic getaways. These types of tourist-friendly areas are packed with crowded streets, McDonalds, Starbucks and Walmart which may seem chaotic for those wanting more serenity.
Personally, I'd prefer a quieter, more authentic getaway to places like Loreto, considered the "Cabo San Lucas of 25 years ago". Still raw and untouched by tourism, Loreto has only a population of 12,500. Loreto combines both a natural beauty as well as a human element. An ideal destination for those who appreciate the 'natural feel' of an area not infiltrated by instantly recognizable franchises or tour groups ferrying buses of passengers.
The town's official slogan is
"300 Years Old and Still Undiscovered"
Loreto is surrounded by raw, rugged and stark desert land, palm trees and cactus. The Sierra La Giganta Mountains form a backdrop framed by the Sea of Cortez with several islands located not far offshore. Still barely touched by over-development and massive tour groups, there are many activities to explore at your own leisure, inexpensively and away from touts and beggars (that often congregate in more touristed cities).
A 3-5 day visit here strikes a nice balance between relaxation yet also allows enough time to choose from a variety of experiences.
Loreto is An Ideal Island for Fishing
'Gone Fishing' might as well be a personal motto of a visit here. Fishing is one of the more popular activities in the region as there are over 10,000 species of marine life found in the Sea of Cortez alone and was declared "Patrimony of the Humanity" in 2005 by UNESCO. Visitors often come here just for the fishing. Confirmed by all the people in the Loreto airport who have packed coolers in anticipation of all the fish they will soon catch. Dinner for weeks!
For a more relaxing time, Island Tours are available daily through the Marine Protected Park in the Bay of Loreto, largest in all of Mexico and second largest next to Australia. Along the sea, you will spot dolphins, seals, turtles, sea-lions and a wide-range of birds.
Island Tours of Loreto
The Island of Loreto lies 155 miles along the coastline, 465 square miles of sea, and five islands all within the United Nations protected Marine Park.
The five islands of Loreto are:
Coronado
Danzante
Del Carmen
Montserrat
Santa Catalina
I opted for the Island Tour as I'm not big into the sport of fishing. Had it been an hour or 2, maybe, but it is a 6-hour Deep-Sea Fishing Excursion. On the casual Island boat (about 3-4 hours), I relaxed sitting at the front of the boat, enjoying the cool wind breeze against my cheeks. Our guide taught us the history of each neighboring island we passed by with a light humor.
Each island has it's own unique history and mythologies. My favorite island is Danzante Island (13.6 miles from Loreto), aka "Dancing Beach", named by a Spanish Explorer, Francisco de Ulloa, from the 16th century. Legend has it that he named the island after seeing people from across the distance dancing, drinking, jumping up and down living the hedonistic life. Unfortunately today, Danzante island is not a place to actually stop nor are there people who live there. Although our guide said that if you drink enough tequila at night, you may be able to see those dancing people again!
Along the way, we spotted dozens of dolphins dancing in the water playfully.
Then it was time for us to dive in for some snorkeling.
---
Villa Del Pal Mar
There are less than 20 hotels on the whole island. I stayed at Villa Del Pal Mar, a beautifully secluded resort 45 minutes from the airport who arranged our itinerary. Those intent on putting their fishing poles in the water before the crack of dawn can certainly do so. A stay at a property such as this offers a wide range of activities for the visitor who wants to 'do it all'. Or for those who simply want to relax with a good book, spa treatments at Sabila. Some souvenir shopping can be done in the sleepy Downtown Loreto. Or simply soak up the sun on the beach.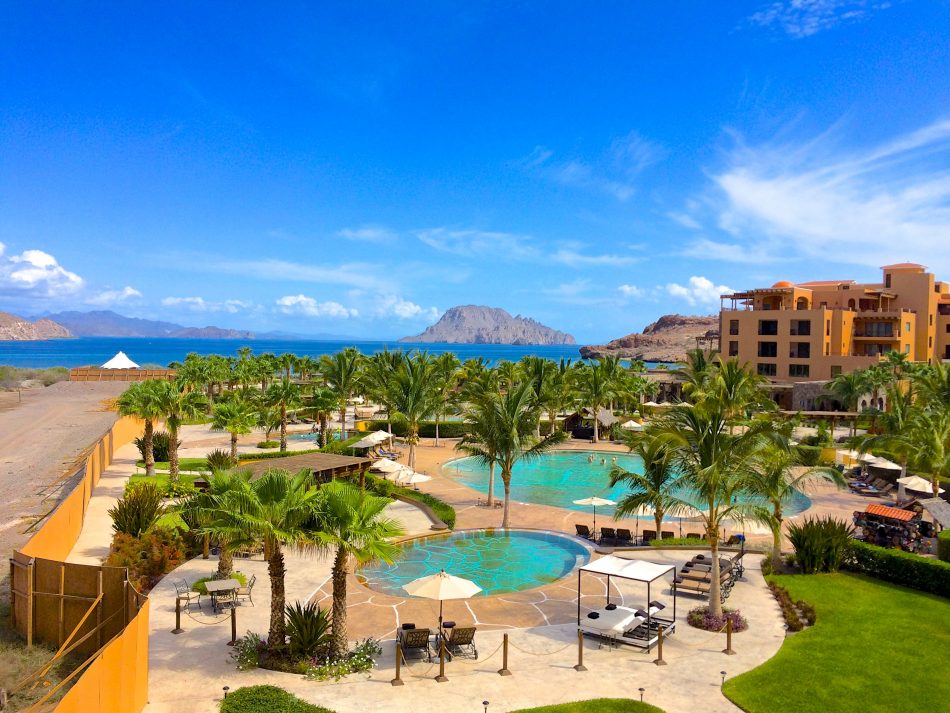 After a morning of water based activities, return to enjoy a
delicious breakfast buffet in one of their 3 fine dining restaurants.
In the afternoon, relax on the serene white sand beach with friendly waiters
ready to hand you a cold bottle of Tecate.
Watch sail boats float by and the sky change in alternating shades of blue and pink.
Kayaks and Paddle Boards are available until the sun sets.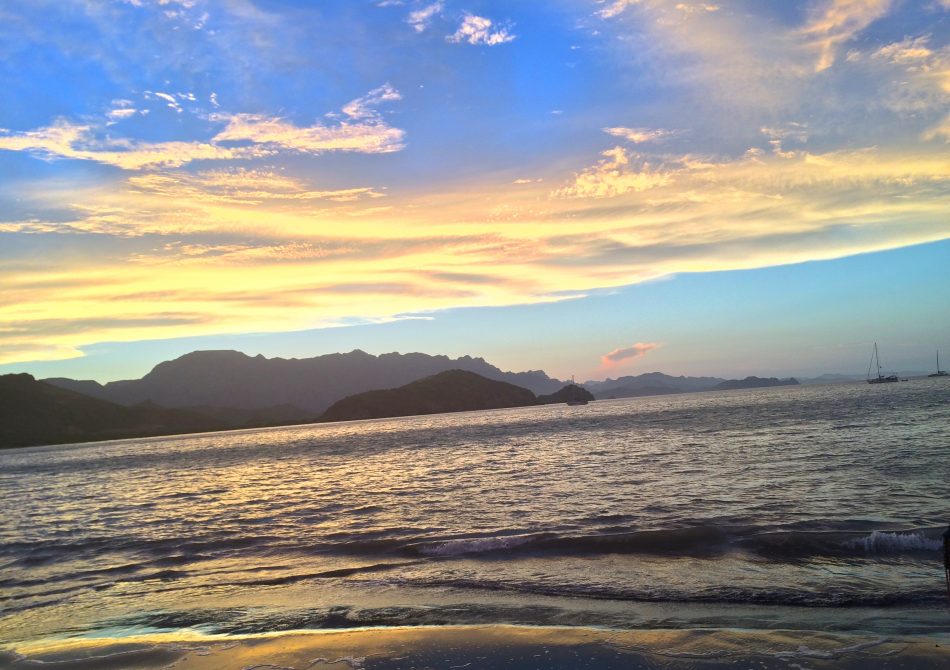 ---
How to Get to Loreto / What to Know
*From the border of California through Tijuana, Loreto is located mid-way down Baja California on the east coast. Only a 2.5 hour direct flight from LAX to Loreto, offered through Alaska Airlines or Westjet.
*Villa del Palmar at the Islands of Loreto is offering special rates starting at $119 USD per night. The rate for this time normally is $184 USD per night.
*Don't forget your Passport, even as an American Citizen.
*Extremely safe place, with barely any crimes, away from the Drug Cartels of Mexico.